Welcome to a colorful South African cuisine tour! Enjoy this country's rich culinary history's flavors. Traditional and innovative, these 24 easy South African desserts to make at home.
New takes on old favorites and comforting oldies. Learn about velvety puddings, delectable pies, fritters, and more.
This collection will take you to South Africa's heart, whether you favor sweets or food.
Easy South African Desserts To Make at Home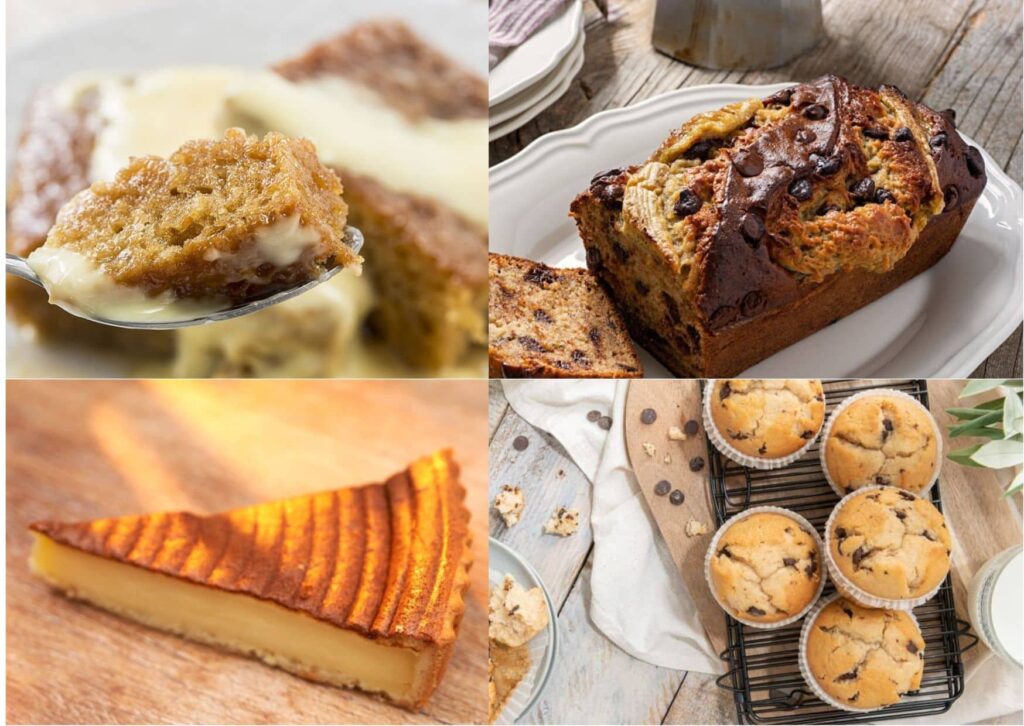 Try some of the delicious South African desserts you can make at home.
Give yourself a Malva Pudding or a Milk Tart to warm you up and make you feel good.
Koeksisters are sweet and sticky, and Peppermint Crisp Tarts are crunchy and minty. Don't miss the unique Queen Cake or the Vetkoek with Jam.
These sweet treats, like Banana Bread and Pumpkin Fritters, are easy to make and are part of South Africa's culinary history.
Malva Pudding is a true South African gem that will enchant you with its warm hug.
This dessert is a symphony of tastes because it has a caramelized outside and a soft inside. Imagine falling into a soft, sticky pudding with apricot jam mixed in and a delicious cream sauce on the side.
Every bite is a trip to comfort food heaven, where the sweetness of the sauce and the hint of sourness go together perfectly.
Malva Pudding is a must-try dish that shows what South African kindness is all about. It has a hint of nostalgia and a burst of sweetness.
Every bite of Milk Tart, or Melktert as it is called in the area, is pure bliss.
This popular treat is a delicate dance between crumbly pastry and smooth custard, with a light dusting of cinnamon on top.
It's a wonder of texture that the crust is crunchy and the middle is smooth and creamy.
The custard is sweetened in a way that lets the familiar taste of milk come through.
Milk Tart, with its elegant simplicity and irresistible flavor, is an ode to the art of making desserts with subtlety.
Koeksisters will take you to a place where everything sounds sweet and right.
These golden, syrup-soaked treats are a feast for the eyes and the mouth. Imagine biting into a braided doughnut that was wonderfully crisp on the outside and irresistibly soft on the inside and was covered in a sugary bath with hints of cinnamon and ginger.
The sauce gives it a shiny look that makes you want to take that first delicious bite.
Koeksisters are a celebration of South African tastes and a reminder of how much fun it is to treat yourself.
Peppermint Crisp Tart is a delicious, refreshing South African Desserts.
Layers of pure delight. Imagine shattered cookies, soft caramel, light whipped cream, and a peppermint crisp chocolate burst in the midst.
The combination of flavors and textures creates a delicious, creamy, crunchy, and chilly experience. Each mouthful leaves a minty freshness like a summer breeze.
Peppermint Crisp Tart is a dessert masterpiece made by South Africans.
Vetkoek, a popular snack in South Africa, will take you on a trip of warmth and good times.
Try sweet and spicy items on these fluffy, golden-brown buns. Adding a generous amount of your favorite jam creates a symphony of opposites.
The delicious, sticky jam and soft, fried dough pair well in taste and texture.
The crunchy surface and soft, warm inside are like food hugs. Vetkoek with jam shows how simple can be great.
Kunafa is an exotic treat with a lot of layers and sweet smells that will make you feel like you're in another world.
This Middle Eastern treat has made its way to South African kitchens. Its crunchy phyllo pastry strips soaked in sugar syrup have won people over.
Inside are layers of stretchy, gooey cheese, which balances the sweetness and softness of the filling.
With a sprinkle of crushed pistachios, Kunafa looks like a work of art and promises to taste like something you'll never forget.
Hertzoggies are South African cookies that are small and soft.
They will make your treat-eating experience even better. Because they are sweet and easy, these small treats are a reason to party.
Imagine cutting into a soft shortcrust pastry that has a lot of apricot jam inside and a feather-light coconut meringue on top.
The mix of tastes takes you back in time, reminding you of your grandmother's baking and lazy afternoons.
With every tasty bite of a hertzoggie, you can see how important it is to keep customs alive.
Banana bread is a traditional South African desserts that makes you feel at home and is very delicious.
Imagine cutting into a loaf that is soft, smells good, and has ripe bananas and a hint of cinnamon in it.
Each bite is a harmony of flavors: the natural sweetness of bananas, the warmth of spices, and the soothing embrace of freshly baked goodness. Banana bread tastes like home and love, whether you eat it for breakfast or as a snack in the afternoon.
Pumpkin Fritters are tempting and will win you over.
This dish beautifully blends South African flavors with home cooking. Imagine chewing a golden nugget.
The outside would be crisp and the inside soft and scrumptious. A little cinnamon enhances the pumpkin's sweetness, creating a familiar and unique flavor.
Pumpkin Fritters demonstrate how simple can be fun. Eat them as a snack or dessert.
Rooibos ice cream is a South African take on a classic treat that will take your dessert game to the next level.
Imagine eating a scoop of ice cream that tastes like rooibos tea and is smooth and creamy.
The herbal notes of rooibos dance in perfect rhythm with the rich creaminess of the ice cream, making for a unique and comforting taste experience.
With every bite, you'll taste a symphony of flavors that celebrates South Africa's natural wealth.
You can let your taste buds go crazy with Ystervarkies, a treat that is both fun and tasty.
These treats in the shape of hedgehogs are a blank canvas where chocolate and coconut come together in a symphony of textures and tastes.
Imagine biting into a rich, chocolatey shell and finding a tasty coconut heart inside.
The way the chocolate is smooth and the way the coconut is chewy is a pleasant surprise that will make you want more.
A fun way to show how good you are at making desserts is by making ystervarkies.
Lemon bars are a snack that is both sweet and sour.
They are a great way to make your mouth happy. Imagine eating a tart with a smooth, tart lemon curd on top of a buttery shortbread crust.
Every bite is like a burst of happiness, with citrusy notes that dance on your tongue and a sweet crust that complements them perfectly.
The crunchy crust and smooth filling make a texture combination that's hard to avoid.
Lemon bars are a fun way to add to your dessert collection because they show how well different flavors go together.
With Watermelon Pops, you can get into the fun spirit of summer.
This dessert is as refreshing as a swim in the ocean. Imagine biting into juicy cubes of watermelon with a crisp, bright shell around each one.
The coating's tempting crunch brings out the natural sweetness of the watermelon and makes for a great mix of tastes and textures. With each bite, you'll get a taste of summer.
Watermelon Pops show that dessert can be both fun and good for you.
With Apricot Tart, you can learn the art of chilled pleasure.
This dessert is great for lazy afternoons. Imagine a delicious layer of creamy apricot filling nestled inside a crunchy biscuit crust.
The apricot mousse has a velvety texture that melts in your mouth, while the biscuit base gives it a delicious crunch.
On a hot day, this treat straight from the fridge is like a warm hug.
The Apricot Tart shows how easy and tasty no-bake treats can be.
Melon and Ginger Salad will take your dessert game to the next level. It is a refreshing dish that shows off the beauty of natural flavors.
Imagine eating juicy cubes of melon that have a zesty ginger-lime dressing spread over them.
The natural sweetness of melon and the mild heat of ginger come together to make a drink that is both energizing and relaxing.
Melon and Ginger Salad is a great choice for those who want a light but delicious treat.
Each bite is a burst of flavor and moisture.
Pineapple Coconut Crumble is a treat that's like a tropical vacation on a plate.
Imagine enjoying the smell of baked pineapple with a hint of cinnamon and vanilla to bring out its natural sweetness.
With a golden-brown coconut crumble on top, each bite is a medley of textures: soft coconut, crunchy crumble, and juicy pineapple.
With every bite, you'll be taken to a faraway island where the pineapple and coconut flavors dance together in perfect balance.
A classic is reinvented in the most delightful way with Grilled Banana Splits.
Smoke flavor will tantalize your taste buds.
Imagine putting your spoon into a half-grilled banana whose sweetness has been enhanced by the fire.
Cool banana, rich fudge, and light cream make each bite with scoops of your favorite ice cream, a drizzle of hot fudge, and a dollop of whipped cream.
Grilled banana splits demonstrate that dessert can be a fun opportunity to try new flavors and textures.
Queen Cakes are a well-known South African treat that will take you back in time.
These sweet treats are made with butter, sugar, and eggs.
They are small enough to eat with an afternoon cup of tea. Queen Cakes are cozy and indulgent.
They have a fine crumb and a hint of vanilla. With a sprinkle of powdered sugar on top, they are the epitome of homemade goodness in their simplicity.
Ouma Rusks Trifle is a traditional South African treat that gives you a taste of the country's past.
Imagine layers of soggy rusks, custard, and fruit coming together in a symphony of textures and tastes.
The softened rusks are a nice contrast to the smooth custard, and the bits of fruit are a nice touch.
This trifle is a celebration of happy memories and the joy of making something warm and beautiful out of simple materials.
Creamy Peach Delight is a treat that celebrates the sweetness of peaches that have been kissed by the sun.
Imagine eating a smooth peach-flavored cream that tastes delicious and melts on your tongue. Each spoonful is a trip through peach fields in full bloom, capturing the taste of the ripest peaches.
The delicate sweetness is matched by the rich creaminess, making a dessert that is both light and indulgent.
Creamy Peach Delight is a symphony of tastes that captures the magic of the season.
Try the heartwarming charm of Sweet Potato Pie, a treat that reminds you of the comforts of home.
Imagine biting into a piece of pie with a buttery, flaky crust that reveals a smooth, spiced sweet potato center.
Cinnamon, nutmeg, and vanilla smell good together and dance on your tongue, while the creamy sweetness of the filling wraps you in a warm hug.
Each bite shows how beautiful simplicity can be and shows what South African soul food is all about.
Milk tart Pancakes are a delicious mix of food and dessert that will take your brunch to the next level.
Imagine eating pancakes that taste like a traditional milk tart, which is a blend of milk, cinnamon, and a light sweetness.
Each pancake is an ode to the South African dessert that is a symbol of the country.
Milk tart Pancakes are a perfect blend of textures and flavors, with a sprinkle of cinnamon sugar and a drizzle of honey on top.
They are great for people who want the comfort of familiar tastes.
Chocolate Malva Pudding is a dessert that takes the classic Malva Pudding to a whole new level.
Imagine putting your spoon into a warm, chocolate-flavored sponge that has a velvety feel and oozes a rich, decadent sauce.
When the flavors of cocoa and caramel come together, they make a taste that is hard to avoid.
This treat, which has a scoop of vanilla ice cream on top, is comfort and luxury on a plate. It's a chocolate lover's dream come true.
Apple Custard Crumble is a treat that celebrates the heartwarming flavors of fall.
It is warm, smells good, and tastes great. Imagine soft apple slices mixed with a creamy custard base and covered with a golden-brown crumble made of butter.
The smooth custard and the crunchy crumble are a masterpiece of different textures.
This treat is like a warm hug on a plate. It goes well with whipped cream or vanilla ice cream.
Learn More: 30 Most Popular Japanese Street Foods That You Must Try
Final Thought
Get ready to start on a culinary adventure through the enchanting world of South African desserts to make at home.
Each dish is a masterpiece that tells a story of custom, innovation, and the joy of indulgence.
Whether you're seeking comfort, excitement, or a taste of memories, these 24 easy South African desserts promise to take your taste buds on a journey you won't soon forget.